California Air Resources Board - CARB Approved (June 29, 2016)
Awards & Recognition for ECO Systems
The ECO Fuel System is a proven and patented low cost simple solution to reducing Hydrocarbon
Pollution. Tested, approved and used by Governmental agencies, School Systems and Private
enterprise around the world for over 14 years.

You can do your part and help preserve our environment while reducing your maintenance and fuel
expenses. No Chemicals, No Magnets, No Maintenence and a +/-20 year lifespan.
No Risk 90 day Money Back Guarantee.
Congressional Recognition

Awarded October 19th, 2009 to our customers in the El Paso area.
Since 2002
ECO Systems has been recognized for it's contribution to clean air by Federal, State, and Local
environmental initiatives.
We have also supported clean air initiates, including Victoria Clean Cities and the Texas Association
for Pupil Transportation.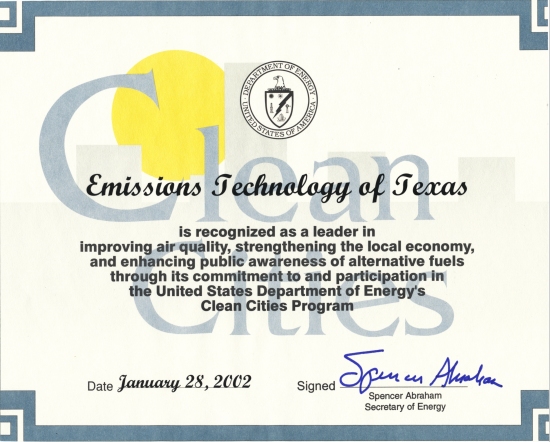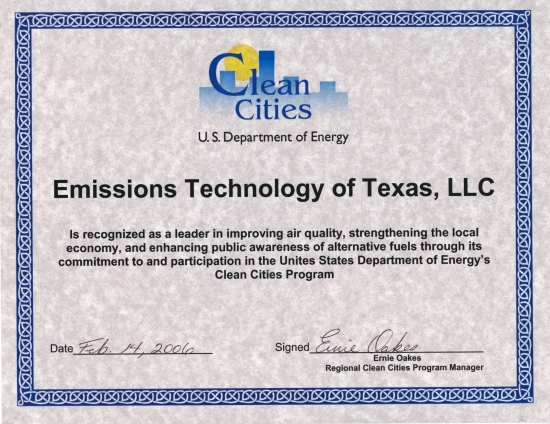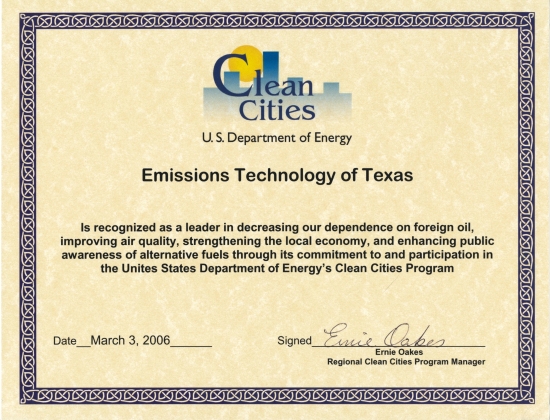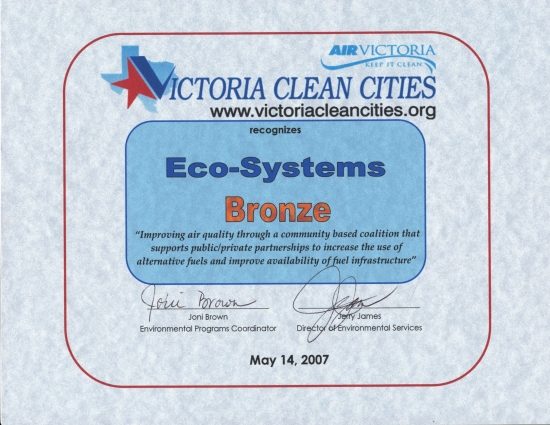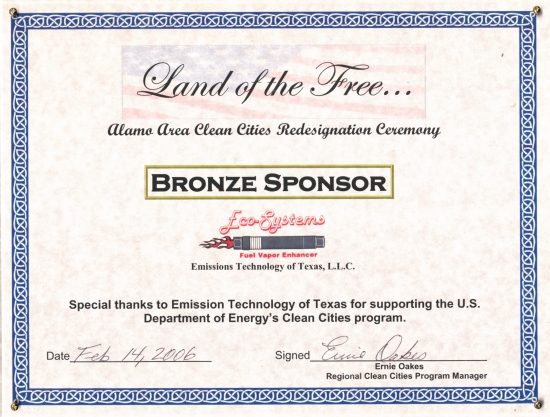 Congressional Recognition Awards from Congressman Rubén Hinojosa of Texas for reducing carbon
emissions, diesel particulates, and improving fuel efficiency with the ECO System.

IDEA Public Schools

South Texas ISD
Congressional Recognition Award from Wisconsin Congressman Ron Kind.

Clean Air Fleet Customers were given Congressional Recognition from Wisconsin Congressman
Ron Kind in La Crosse, WI. Special Thanks to Congressman Ron Kind, and Representative Jennifer
Shilling. 95th Assembly District of La Crosse WI. and to the La Crosse County Highway Department,
Crawford County Highway Department, Dunn County Highway Department, Buffalo County Highway
Department, B&K Trucking, Hughes Transport, Hotline Freight System Inc., and Rebecca J Brown.
---
Congressional Recognition from:
Congressman Henry Cuellar
Congressman Ciro Rodriguez
Congressman Charlie Gonzalez
Recognizing the Contributions of some of our customers
Congressman Silvestre Reyes' Office
Awards presented to El Paso area agencies and organizations
who are being recognized for their outstanding service to
the community by making a difference in the environment.